ΔV: Rings of Saturn DRM-Free Download – PC Game – Full GOG Version
Title: ΔV: Rings of Saturn Tungsten Edition
Genre(s): Action – Simulation – Sci-fi
Works on: Windows (7, 8, 10, 11)
Release date: August 12, 2019
Company: Kodera Software / Kodera Software, Kurki.games
About This Game
Hard sci-fi, top-down physics based space mining simulator. Master realistic spaceflight using true-to-life technology, upgrade your ship to best suit your flight style and hire a crew to assist you.
∆V –
Delta-V, symbolized as ∆V and pronounced delta-vee, is the change in velocity that a spacecraft can achieve by using its entire propellant load.
The year is 2273 –
The unexpected discovery of valuable minerals within the rings of Saturn has sparked a thriving space excavation industry. You control an asteroid excavation ship hoping to make it rich out on the rings, but soon you find out that all is not as it appears. Experience a hard sci-fi story backed up with real physics and science.
Key Features:
Realistic top-down hard sci-fi space flight experience. Every aspect of gameplay is backed up by real science. Ships fly just as starships should.
Jump into action in seconds with autopilot assist or save fuel by manual thruster maneuvers.
Detailed ship simulation down to every subsystem – upgrade your ship, fix or even jury-rig broken systems on the fly. Every system failure will impact gameplay – adapt to survive in the hostile environment of space.
Discover the mystery of the Rings, or just try to get rich leading your excavation company.
Plan your strategy back on Enceladus Prime station. Sell your output, upgrade your ship, hire the crew and manage your company.
System Requirements
Minimum:
OS: Windows 7/8/10
Processor: I5
Memory: 2 GB RAM
Graphics: Intel UHD 630, 2GB VRAM
Storage: 512 MB available space
**This game Requires a 64-bit processor and operating system
Game Media
ScreenShots from the Game: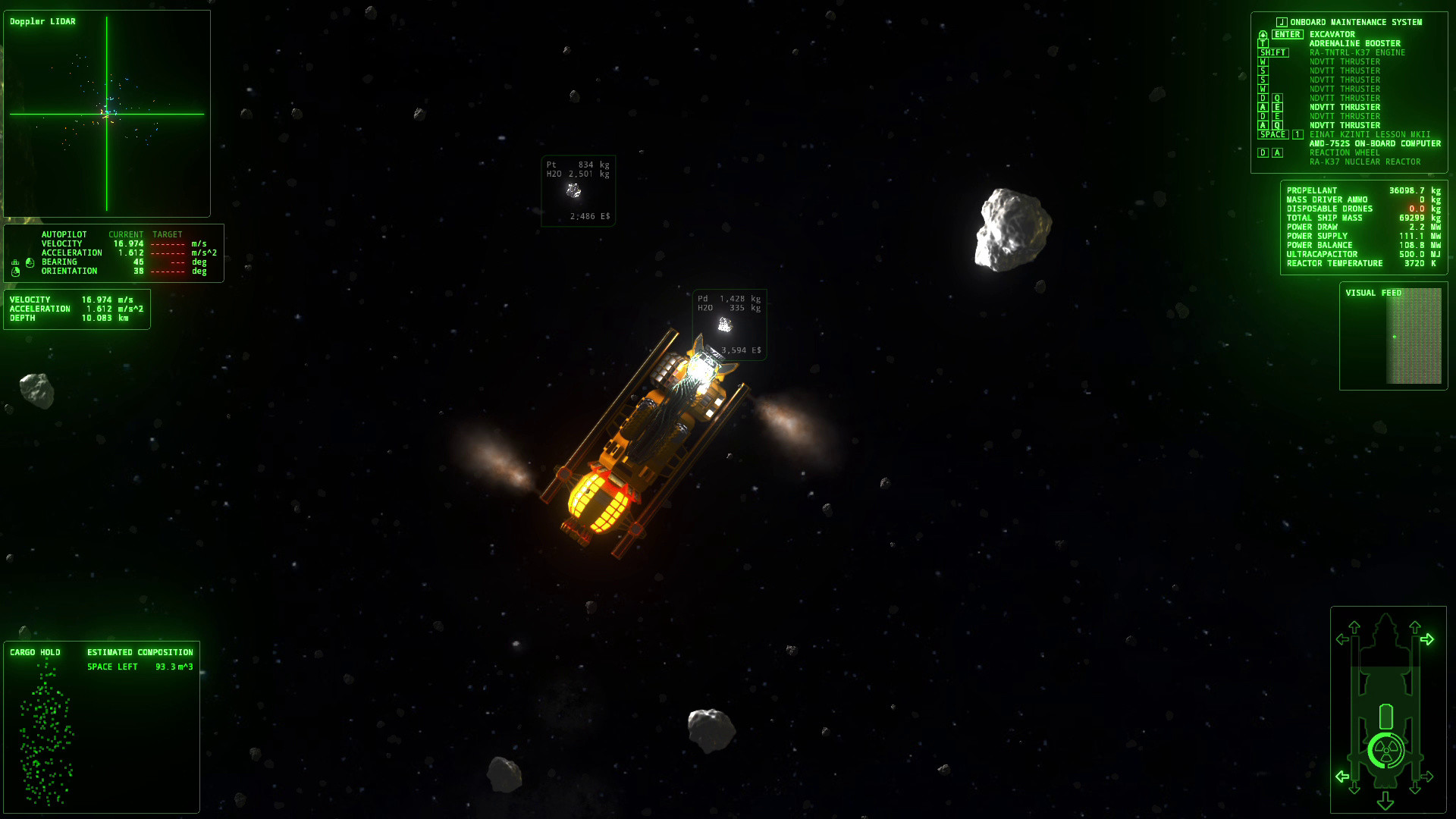 Video/s from the Game:
More Info
FREE GOG PC GAMES PRESENTS:
ΔV: Rings of Saturn (c) Kodera Software / Kodera Software, Kurki.games
Year 2273. The unexpected discovery of rich mineral deposits in the rings of Saturn caused the rapid development of space excavations. You operate a mining ship to mine asteroids, hoping to get rich in the rings. But you soon discover that all is not what it seems. Immerse yourself in a hard science fiction story backed by real physics and science.
More info here: https://www.gog.com/game/dv_rings_of_saturn
How to Easily Download & Install:
Click the link below to download the no activation DRM-Free GOG Game.
Wait until client finishes downloading to 100% and then locate the file/s folder.
Follow this steps to install the game:
– Run or Double click setup_v_rings_of_saturn_*****_(64bit)_(*****). exe
– Run or Double click DLC:
— setup_v_rings_of_saturn_-_original_soundtrack_*****_(64bit)_(*****). exe
— setup_v_rings_of_saturn_-_tales_from_the_rings_*****_(64bit)_(*****). exe
— setup_v_rings_of_saturn_-_anthropogenesis_*****_(64bit)_(*****). exe
— setup_v_rings_of_saturn_-_4k_texture_pack_*****_(64bit)_(*****). exe
Thats it, play and enjoy!
If you like this game please support the developers by BUYING IT!
You can visit our FAQs page for more help and solutions if you have a problem.
Download Here⇩
Size: 1017 MB
ΔV: Rings of Saturn Tungsten Edition (0.552.9) [GOG] -InDev-