Darksiders Warmastered Edition DRM-Free – PC Game – Full Download – Gog Games
Title: Darksiders Warmastered Edition
Genre: Action – Role-playing – Fantasy
Works on: Windows (7, 8, 10)
Languages: Audio and text: Deutsch, English, español, Español (AL), français, italiano, 日本語. Text only: Português do Brasil, český, 한국어, polski, русский
Features: single-player – controller support
Released: November 29, 2016
Company: KAIKO, Vigil Games / THQ Nordic GmbH
About this game:
Darksiders Warmastered Edition Features:
– Support for up to 4k video output resolution
– Doubled all the texture resolutions
– Re-rendered all cutscenes in high quality
– Rendering improvements and rework
– Better shadow rendering quality
– Post processing effects
– Optimized framerate
– Wide Variety of Graphic Options (FOV, Postprocessing effects, Anti-Aliasing, Texture Filtering, Windowed/Fullscreen, etc.)
Deceived by the forces of evil into prematurely bringing about the end of the world, War – the first Horseman of the Apocalypse – stands accused of breaking the sacred law by inciting a war between Heaven and Hell. In the slaughter that ensued, the demonic forces defeated the heavenly hosts and laid claim to the Earth.
Brought before the sacred Charred Council, War is indicted for his crimes and stripped of his powers. Dishonored and facing his own death, War is given the opportunity to return to Earth to search for the truth and punish those responsible.
Hunted by a vengeful group of Angels, War must take on the forces of Hell, forge uneasy alliances with the very demons he hunts, and journey across the ravaged remains of the Earth on his quest for vengeance and vindication.
Apocalyptic Power – Unleash the wrath of War, combining brutal attacks and supernatural abilities to decimate all who stand in your way
Extreme Arsenal – Wield a devastating arsenal of angelic, demonic and Earthly weapons; and blaze a trail of destruction atop Ruin, War's fiery phantom steed
Epic Quest – Battle across the wastelands and demon-infested dungeons of the decimated Earth in your quest for vengeance and redemption
Character Progression – Uncover powerful ancient relics, upgrade your weapons, unlock new abilities, and customize your gameplay style
Battle Heaven and Hell – Battle against all who stand in your way – from war-weary angelic forces to Hell's hideous demon hordes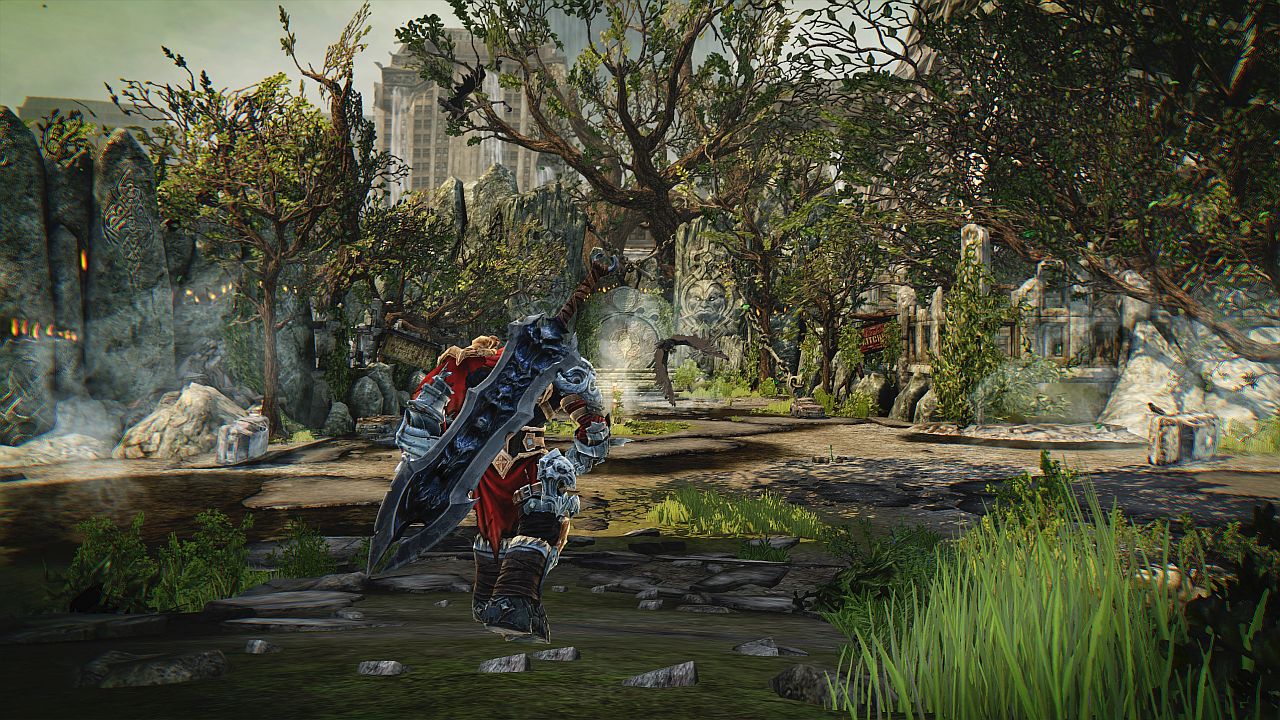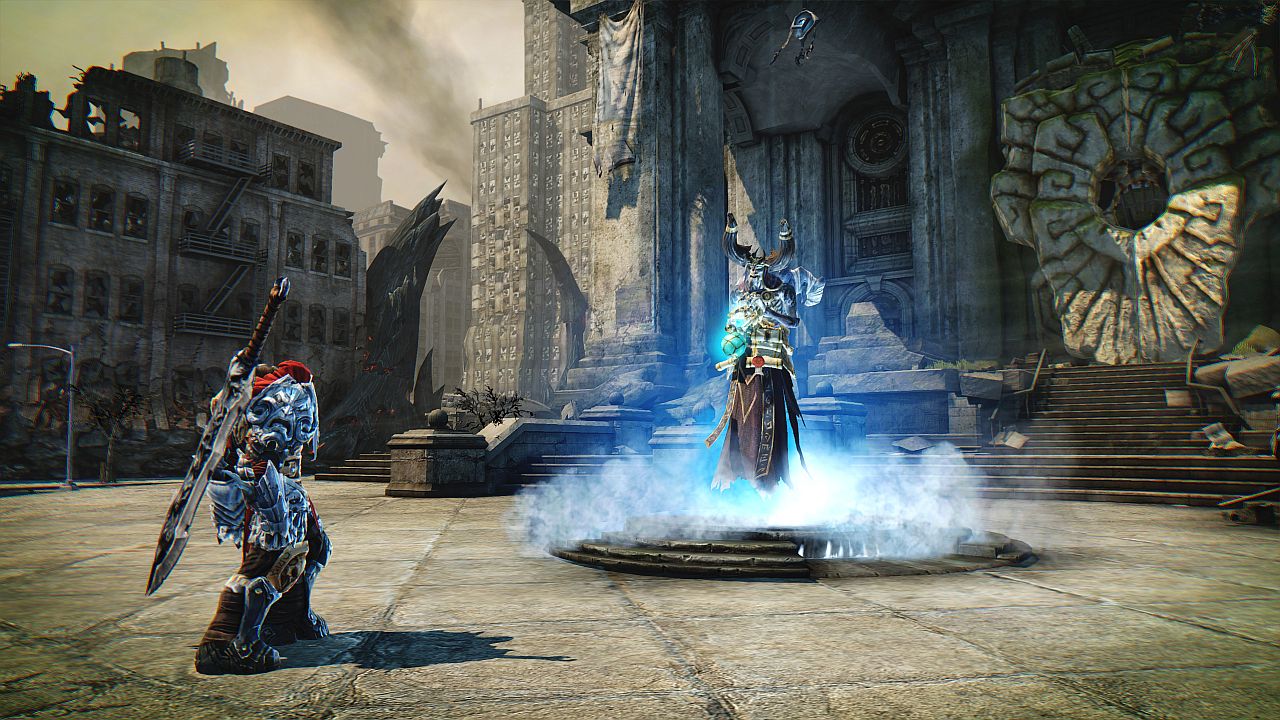 Minimum System Requirements:
Windows: 7 or later (64-bit)
Processor: Intel or AMD Dual Core CPU
Memory: 4 GB RAM
Graphics: DirectX 10 Feature Level AMD or NVIDIA Card with 1 GB VRAM
DirectX: Version 11
Storage: 36 GB available space
Recommended System Requirements:
Windows: 7 or later (64-bit)
Processor: Intel or AMD Quad Core CPU
Memory: 8 GB RAM
Graphics: DirectX 11 Feature Level AMD or NVIDIA Card with 1 GB VRAM
DirectX: Version 11
Storage: 36 GB available space
Please be advised that Windows 10 operating system will receive frequent hardware driver and software updates following its release; this may affect game compatibility
FREE GOG PC GAMES PRESENTS
Darksiders Warmastered Edition (c) KAIKO, Vigil Games / THQ Nordic GmbH
Darksiders Warmastered Edition Features:
– Support for up to 4k video output resolution
– Doubled all the texture resolutions
– Re-rendered all cutscenes in high quality
– Rendering improvements and rework
– Better shadow rendering quality
– Post processing effects
– Optimized framerate
– Wide Variety of Graphic Options (FOV, Postprocessing effects, Anti-Aliasing, Texture Filtering, Windowed/Fullscreen, etc.
More info here: https://www.gog.com/game/darksiders_warmastered_edition
Installation:
Full game without DRM. No serial code needed.
Run or Double click setup_darksiders_warmastered_edition_2.0.0.2.exe and patch_darksiders_warmastered_edition_2.1.0.3.exe
Play and enjoy!
If you like this game, support the developers and BUY IT!
Darksiders Warmastered Edition Patch 2.2.0.4 Size: 44.22 MB
Changelog:
==========
• Fix for AMD performance problems.
• Fix for users with Non-ANSII character based usernames that had problems to get config saved / loaded.
• Fix for users without pre-existing keyboard config could not load / save keyboard config.
• Note : If you had working keyboard config load / save, then please copy your keyboard configuration to
the new place.
• The old file was %localappdata%\\Darksiders\\controls.dcon. New location and filename is %appdata%\\
kaiko\\darksiders1\\keymapping.bin. Please just copy the file and rename it.
• Aspect ratio works now in windowed mode, should work with full screen and non 16:9 Monitors.
(please give feedback).
• FOV settings (auto and user controlled) work now in all cases.
• Framerate cap lifted from ~ 100 fps to ~330 fps.
• Mouse wheel should now work as input (its default for switching targets).
Download Here
Size: 21.93 GB
Darksiders Warmastered Edition (GOG)
Please note that you need uTorrent to download the game.
If you are kind enough please don't forget to share